Are you worried about how to make and stick to a monthly budget? Look no further! Today we take you through the best budgeting apps which are vital for your financial success. The best free budgeting apps help you to know how much money enters and exits your household on a daily basis so that you can control the overspending of money.
When it comes to sticking to the habit of gaining control over your money, the right kind of support from a free budget app is imperative. The right app can help you control your spending in accordance with your chosen budget by connecting your bank account and credit cards to the application and track spending by automatically downloading transactions.
The best budgeting app is easy to operate, integrates with your bank accounts, gives you an option to customize your budgeting style, and most importantly, comes at an affordable price point. Your search for the most suitable budgeting app comes to an end as we bring to you one of the best budgeting apps available for controlling your expenses in 2022.
MoneyPatrol is an innovative budget app designed with the goal to help customers lead a financially healthy life. MoneyPatrol leaves other applications behind and climbs to the top because of its budgeting philosophy. Additionally, MoneyPatrol monitors your financial accounts and enables you to keep an eye on your finances by sharing notifications, alerts, and insights. As you start with linking your application to your financial accounts, you can take better decisions for yourself as well as your family.
MoneyPatrol is an advanced free budgeting app that tracks and monitors your spending, sends alerts and notifications as soon as you have any transaction, and thereby assists you in managing your personal finances. All your financial accounts are consolidated into one dashboard and the application is reported to have created a positive impact of $5K on the customers' personal finances.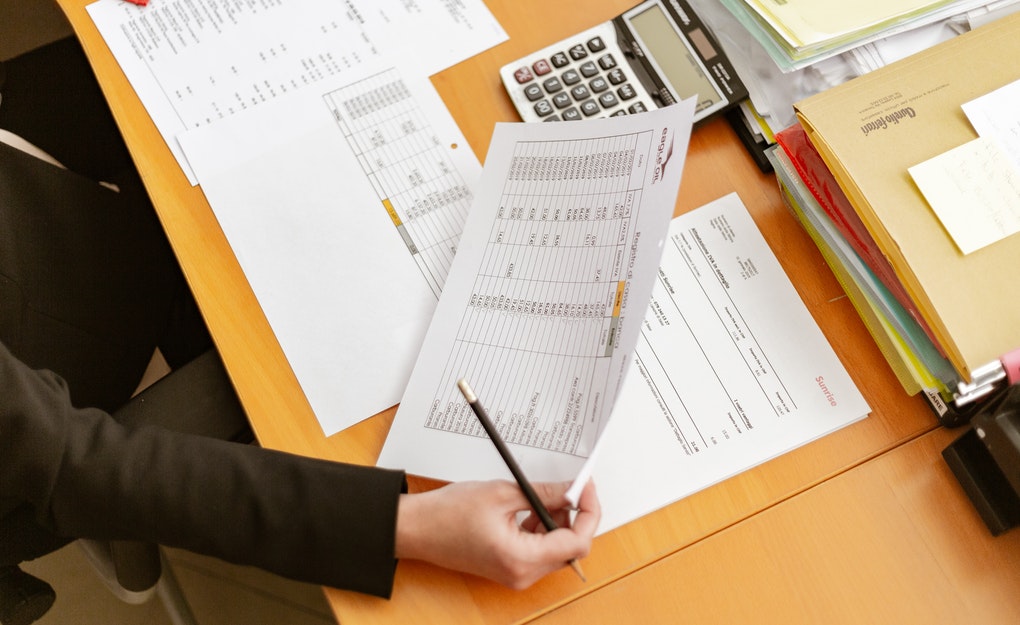 Is It Safe to Use MoneyPatrol
MoneyPatrol is one of the best budgeting apps for use because of its Secure Sockets Layer (SSL) encryption and MacAFee secure certification, which makes it all the more safe and secure. Here are some additional measures taken by the budget app which enhance the security of the users.
Multi-factor authentication when any other device tries to log into your user account
A 256-bit Military grade data encryption is used to communicate information from your financial institutions
Does not keep track of their client's bank and brokerage credentials into their server
Never asks their clients to share their sensitive information such as name, address, and Social Security Number (SSN)
Employs security scanning methods to enable to the safe transfer of sensitive data
Private data and information, and no way encourages sharing of your crucial information with third-party
No access to outsiders to use your account or transfer money from it
Visual Representation of the Why should you choose MoneyPatrol?
Listed below are some features which make MoneyPatrol a top pick: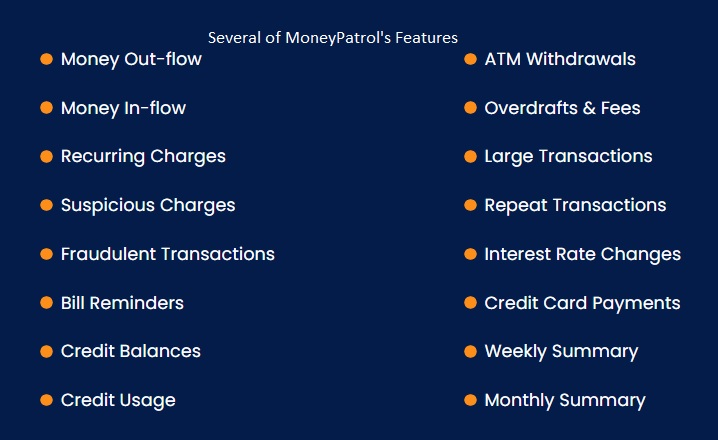 You can keep a track of the merchants you are spending most of your money at to understand the money in-flow and out-flow. You can also opt for daily, weekly, monthly, and quarterly reports to assess the trends of your income and spending patterns and use them for tax purposes. You also get to identify suspicious and fraudulent transactions. Check out this best free budget app today!
Set and manage budgets from your app and get bill reminders
You get to segregate your expenses according to different categories and merchants. You also receive insights into the best budgeting app along with advance reminders about any upcoming bill that must be paid. This feature ensures that you to not miss the payment of your essential bills.
Store receipts and documents through your app
It is important to keep a track of all important documents and receipts for tax purposes. MoneyPatrol allows you to upload and save receipts of your business transactions to a secure document vault so that you find it handy during times of need. Additionally, you also get the option to tag and add the description to a business transaction from your budget apps.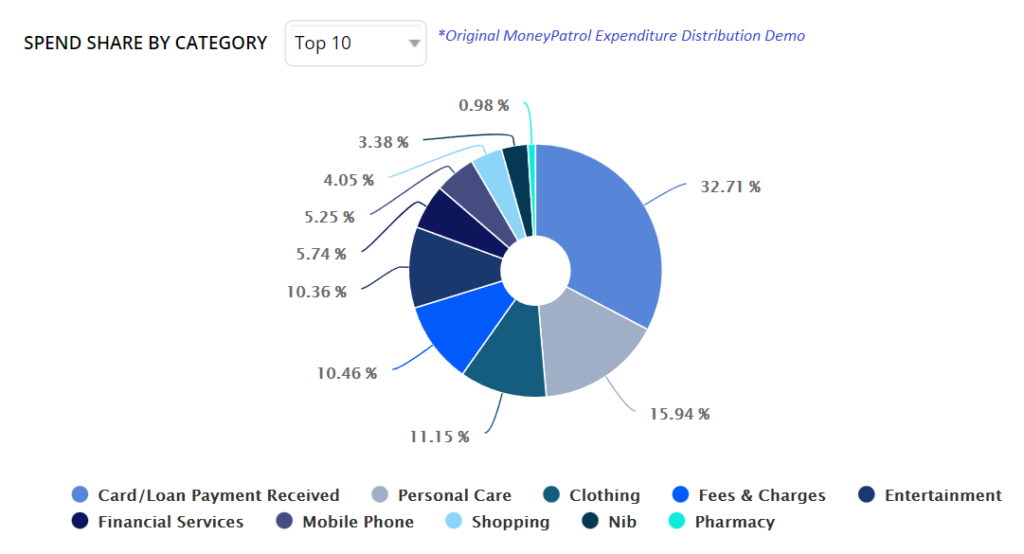 Coverages in alerts and insights
Till now we have been stating that you will be able to receive alerts and insights on using the MoneyPatrol app via texts and emails. Listed below are the different types of alerts you can receive:
Expenses
Income
Overdrafts and fees
Recurring charges
Large transactions
Suspicious charges
Fraudulent transactions
Repeat transactions
Interest rate changes
Bill reminders
Credit card payments
Credit balances
Credit usage
Weekly summary
Monthly summary
Steps to sign up for MoneyPatrol
You will get a 15 days free trial period on registering with MoneyPatrol. However, before that, you need to follow the below-mentioned steps.
Download the application and go to the sign-up page
Register yourself by clicking on the sign-up option
Enter your details like email ID and phone number and create a password through which you can sign in the next time you are logged out
After filling up all the information, click on 'Create Account'
Post the creation of your account, a verification link would be sent to your registered email address, and you need to click on it for the completion of the verification process. Check out this best budget app today!
Types of accounts supported by MoneyPatrol
Savings account
Business account
Mortgage account
Personal credit card
Checking accounts
Student loan accounts
Gift cards
Investment accounts
Institutions supported by MoneyPatrol
Big and small banks
Credit card providers
Mortgage companies
Brokerage firms
Auto loan providers
Phone companies
Credit unions
Utility companies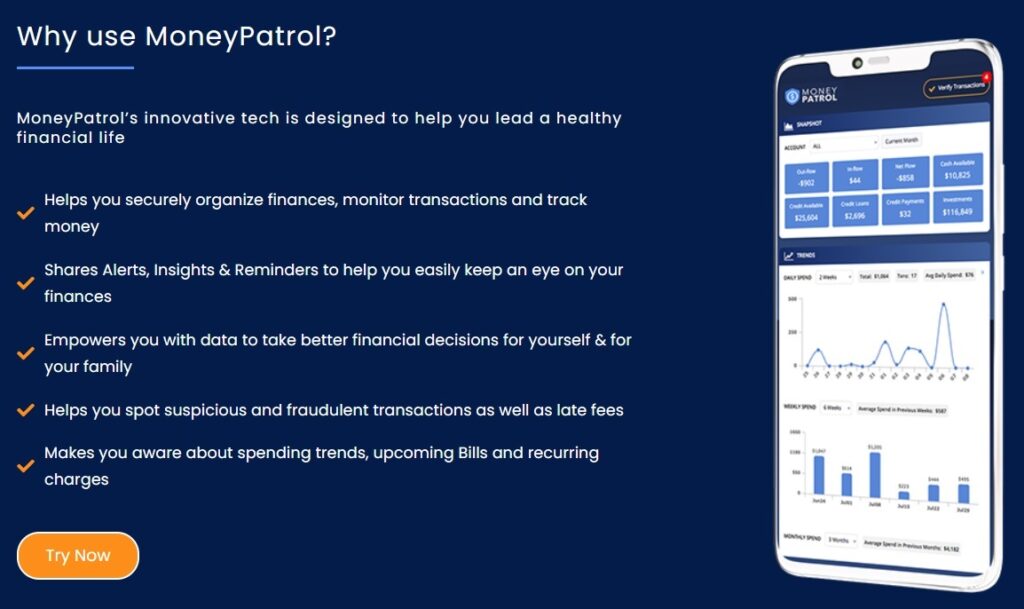 Features provided by MonyPatrol
To enhance ways of your financial management through a best budgeting app like MoneyPatrol, you can use the tools tabulated below.
| | |
| --- | --- |
| Review Transactions | Get a summary of the transactions carried out. You also get to add the merchant and transaction tags and edit them. |
| Recent Transactions | Display the transactions carried out in the recent past. |
| Alert Ticker | It provides a quick update insight to the user on cash out-flow/in-flow, credit loans, etc. |
| Expenses | Per month expenses incurred by the user for each institution |
| Snapshot | From cash available, income, expenses, credit available, net flow, credit loans, credit usage, and investments, you get an overview of all of these. |
| Credit scores | Equifax credit score helps users to determine their present credit position |
| Utility bill reminders | You receive a notification before the due date of payment of any important bill |
| Transaction calendar | Records the transactions of an accounting year including income, expenses, and cash flow. You get to track your transactions daily as well as monthly in the calendar view. |
| Balance sheet | You can view the net worth statement in your balance sheet, which is basically your financial position at a given point in time. |
| Trends | It informs the user about daily and monthly money out-flow/in-flow. |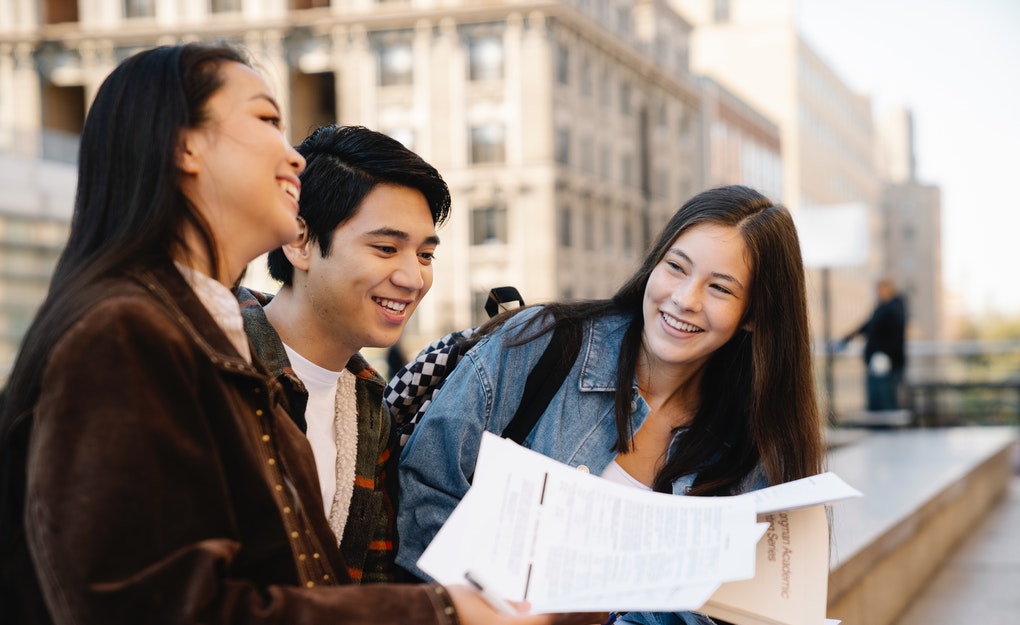 What makes for a successful budget?
You don't just earn money to make ends meet, but rather to create assets that would be helpful in the future. For this, you need to budget your expenses. This process begins when you identify your financial goals, and start controlling your spending and savings habits. Preparing a budget is the first step you can toward managing your finances. Using a free budget app helps you to get prepared for every expected and unexpected challenge life brings as you recognize how much money you are earning and spending. Sign up and try out this best budgeting app today!
How to Choose a Budgeting App
Though choosing a budgeting app might seem a trivial thing, it is actually a very important one because the right application can create a major difference in your financial management. You have to decide your financial goals before selecting one of the best budgeting apps as that would refine your search for the ideal application. Here are a few features you should consider before deciding to commit to a budgeting app.
In an era where information hacking is very common, protecting your personal information is extremely important. Though most budgeting apps ensure some level of security, some go a step ahead and take some extra precautionary measures. Before investing in any app, check and compare the level of security encryption of each app. Budgeting apps may have some features like multi-factor authentication and 256-bit encryption to ensure the security and safety of their clients' information. Putting these features to use prevents intruders from accessing your personal information.
Different budgeting apps charge different registration fees. While some are free, some offer a partial trial period offer, the others charge a monthly fee. There is no doubt that a free app might look lucrative, but that does not mean that paid apps can be overlooked. If investing in one of the best free budgeting apps is beneficial for improving your financial outlook, you should consider doing so.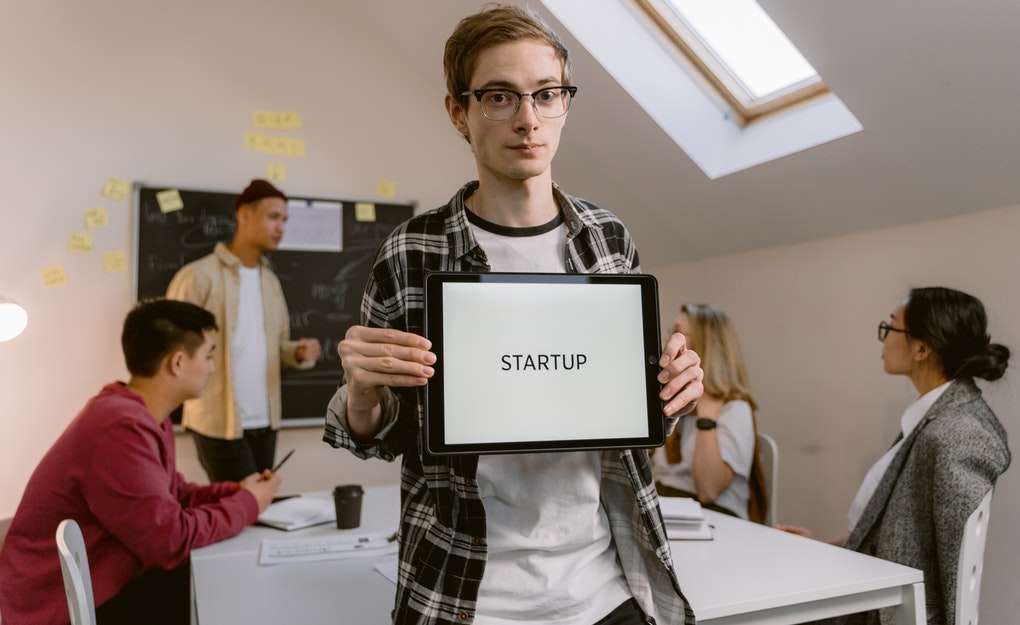 Each application has some distinctive features and the reasons behind choosing each one of them should also be varied. You should make a comparative study of the features of different budgeting apps to assess which one best suits your requirements. Some of the typical features in the leading budgeting apps are as follows:
Connecting your financial accounts and keeping a track of all financial transactions
Setting your financial goals
Designing a budget
Tracking expenses
Getting notifications of upcoming bill payments
Credit score tracking and more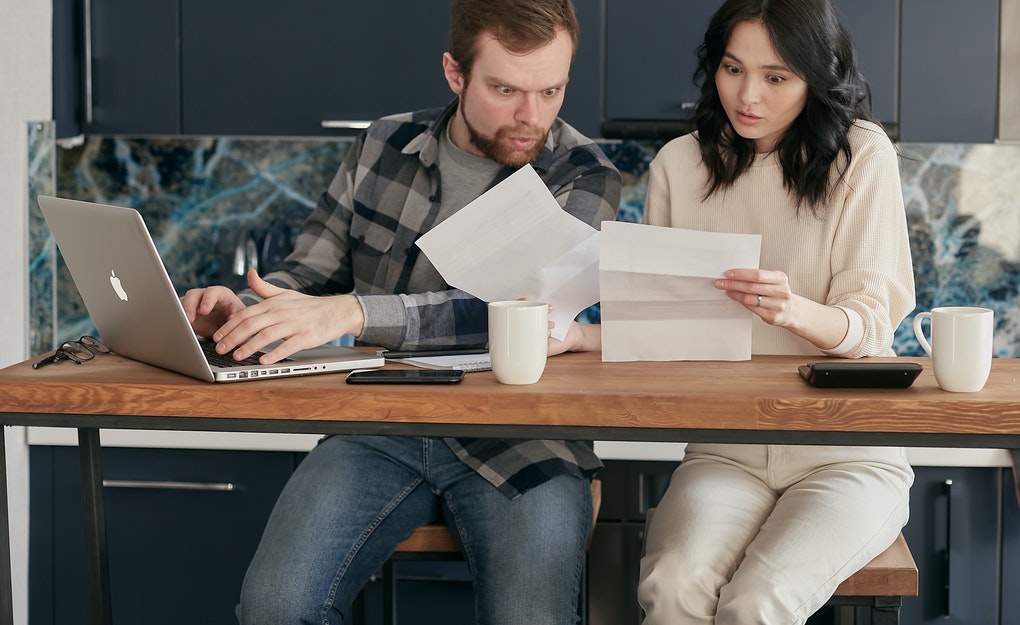 This is one of the major factors to consider as the customer service of a budgeting app can help you out when you run into an issue. Before selecting a budget app, research about the assistance provided by the technical team and read the reviews of users about the application's customer service. Check out this best budgeting app today!