Simply Connect Your Financial Accounts


Connect All Your Financial Accounts – attach Credit Cards, Checking, Savings, Loan, Investments, Mortgage and Reward Accounts.

Understand Money In-flow and Out-flow. See Your Spending Patterns by Merchants & Categories. Get Trends by Day, Week, Month and Quarters.

Get Money Alerts and Insights
Receive alerts such as Money In-flow & Out-flow; Interest Charges; Overdraft & Late fees; Recurring, Duplicate, Fraudulent & Suspicious Charges.

Create weekly & monthly Budgets to track your spending by Categories and Merchants. Receive timely Alerts & Insights with the industry-leading Budgeting app.

Get Reminders in advance about upcoming and recurring Bills so that you don't miss any payments or default on your important Bills.

Save Receipts & Documents
Upload and save your receipts of business transactions (for tax purposes) to the secure document vault.

Connect and track your Investment accounts such as Stock investments, 401K and Roth IRA contributions along with overall portfolio breakdown.

See your Income and Expense calculations at one place to easily understand your monthly Cash Flow and create a workable Savings plans for the future.

Create various types of weekly and monthly trend reports to see your income and spending patterns; download and use these reports for tax purposes.
MoneyPatrol's innovative tech is designed to help you lead a healthy financial life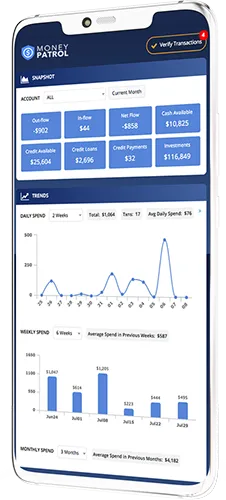 MoneyPatrol is Safe and Secure



We securely transmit data from your financial institutions using 256-bit Military grade data encryption

Your data and information is private. We do not and will not share your data with any third-party.

We participate in security scanning to help ensure security for sensitive data transfer.

We never ask nor require you to share any sensitive info such as your SSN number.

We use measures like multi-factor authentication, designed to help you protect access to your account.

We never ask nor require you to share any personally identifiable info such as your Name or Address.

We do not store your bank and brokerage credentials on our Servers.

No one can access your Bank accounts. No one can move money from one account to any other account.
Alerts & Insights via texts & emails empower you to closely monitor and easily track your transactions
Money Patrol is a very useful and powerful product. I use it everyday to watch my spending. This product has helped us cut on junk purchases. It's basically your very own personal financial advisor and a money management app.
After looking at a half dozen financial tools, and trying my own excel sheets, I've found MoneyPatrol to be the most efficient and informative method for tracking and monitoring my finances. Very very thankful for this innovative product.
I love everything about MoneyPatrol and regret not setting it up sooner. Budgeting is so easy, checking my accounts is a snap, and I get text messages and email alerts. I recommend this product to everyone.
I love that I can manually verify each transaction that has happened on any of my accounts. This has enabled me to pay very close attention to my spending. This product pays back in multiples and is a must-have app.
We cannot imagine living without MoneyPatrol. It really changed our spending habits. A must have app for anyone serious about improving their financial life. This product saved my life. Money Patrol is part of my daily routine now.
A very simple way to look at money & finances. It's well designed, looks good and very functional. I am highly impressed and have highly recommended MoneyPatrol to my friends and family and they all are finding it useful.
The text and email alerts have helped me monitor every transaction closely. Thanks to MoneyPatrol, I have even caught a big fraudulent transaction on one of my credit cards. Simple and easy to use.
Money Patrol is the only product that has shown me the correct picture of my overall Income and Expenses. I really like the Budgeting and the Cash Flow tracking features. I have now been able to improve my Savings every month.
Achieve Your Financial Dreams By Monitoring Your Finances

Easily track your financial goals and create your own budget
Featured Money Talk Posts

What is a Credit Card Fraud?
Credit card fraud is an umbrella term for theft and fraud committed using or involving a payment card, such as a credit card or debit card…
What is Online Identity Theft?
Identity theft is a crime where the thief steals your personal information and uses it in an unauthorized way for their own personal gain…
Who is Liable for Credit Card Fraud?
Credit card fraud is a type of identity theft in which crooks impersonate you and take control of your finances using your personal information…