Our affiliate and partner program rewards you financially for directing new customers to Money Patrol tool.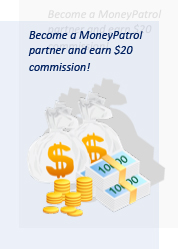 There are no fees associated with our affiliate program. It's completely free to participate.
There is no limit on commission you receives! Your ability to earn is based on how much traffic you can generate and the level of engagement and trust you have with your audience. The more purchases you drive, the more you earn.
We accept almost all types of websites that are relevant to our products and do not contain objectionable or offensive materials. We welcome all applications but reserve the right to refuse membership or revoke a membership at any time at our discretion.
How it works?
MoneyPatrol tracks a cookie that is automatically applied to the computer of a person who clicks on a banner or text link that has your affiliate ID number embedded within it. Each banner or link that you create is specifically tagged with your Impact ID number, letting us know that you deserve commission on the sales you send our way.