When you log in to MoneyPatrol, the page you land on is the Dashboard.
The Dashboard provides an overview of your finances. This is where you can check details on your spending, expenses, credit, savings and bills. This assists you in determining how much money to spend, where to spend it, and when to spend it. It also provides you with a comprehensive picture of your financial situation, which aids in the development of plans and directions for achieving your financial objectives.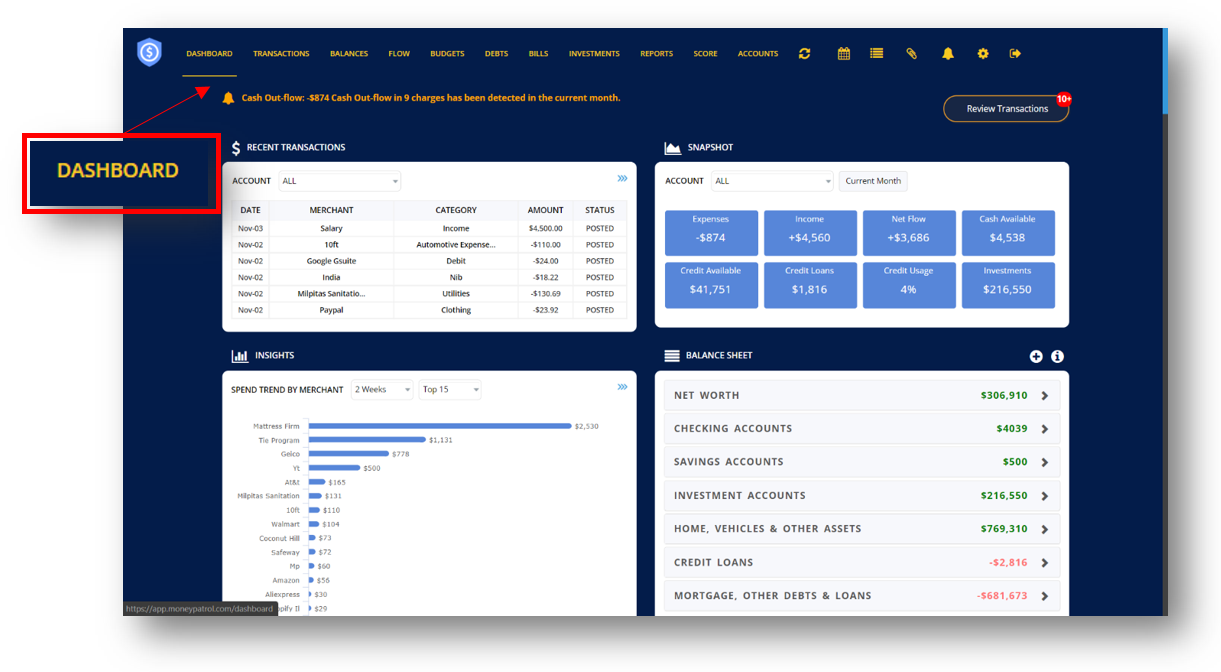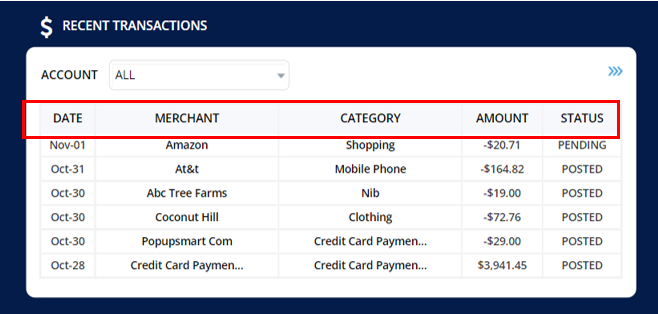 This section displays your most recent transactions, including the date of the transaction, the merchant from which the transaction was made, the category of the transaction, the amount spent, and its current status.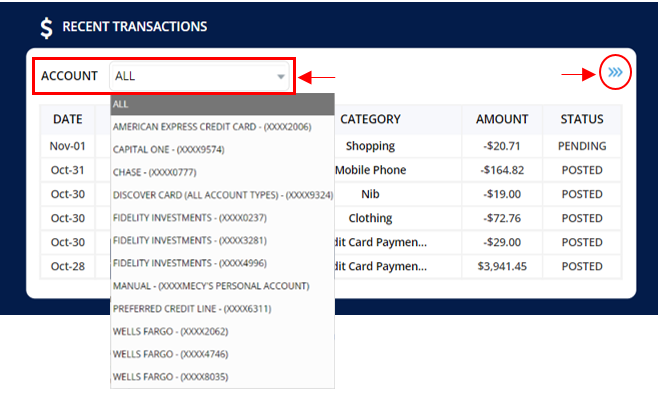 By clicking the three arrow icon, you can view more of your transactions. This will take you directly to your transaction summary, where you can see a more detailed breakdown of your recent and previous transactions.
Click the drop-down menu to view your recent transactions according to your linked accounts.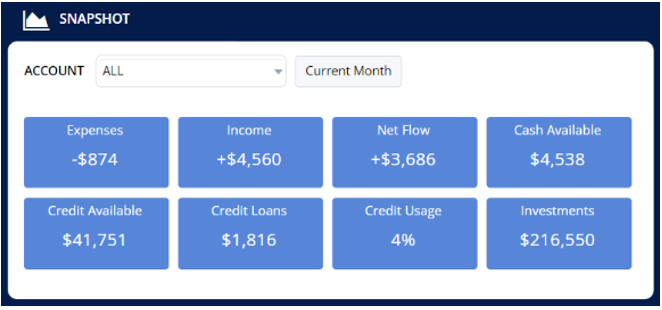 Snapshot displays an overview of your expenses, income, net flow, cash available, credit available, credit loans, credit usage, and investments.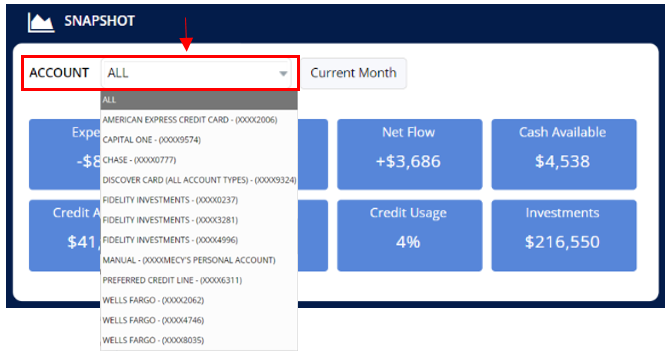 Similarly, to the Recent Transactions section, you can click the drop-down menu, to can get an overview of your finances based on your linked accounts.
EXPENSES
Keeping track of where and when money is spent makes it much easier to recognize and correct any bad spending habits. This knowledge may be enough to change a bad spending habit by leading you to reconsider future purchases and assess whether they are genuinely necessary. Setting financial goals will also be easier when you understand where your money is going and have a firm handle on your finances.
To get an overview of these expenditures, click on Expenses and a pop-up window will appear, displaying the amount you used per institution during the current month.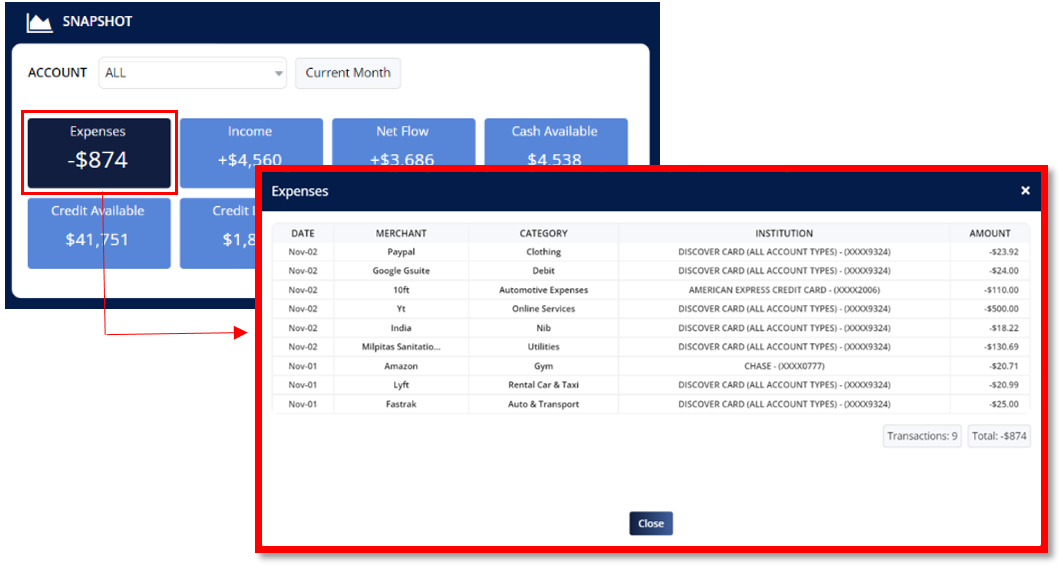 INCOME
Understanding where your money is going is critical, but knowing where and when it is coming from is even more crucial. Being able to manage your money will allow you to prioritize which expenses to address first and which to manage later.
Click on Income and a pop-up window will appear that displays the income transaction details you need for the current month.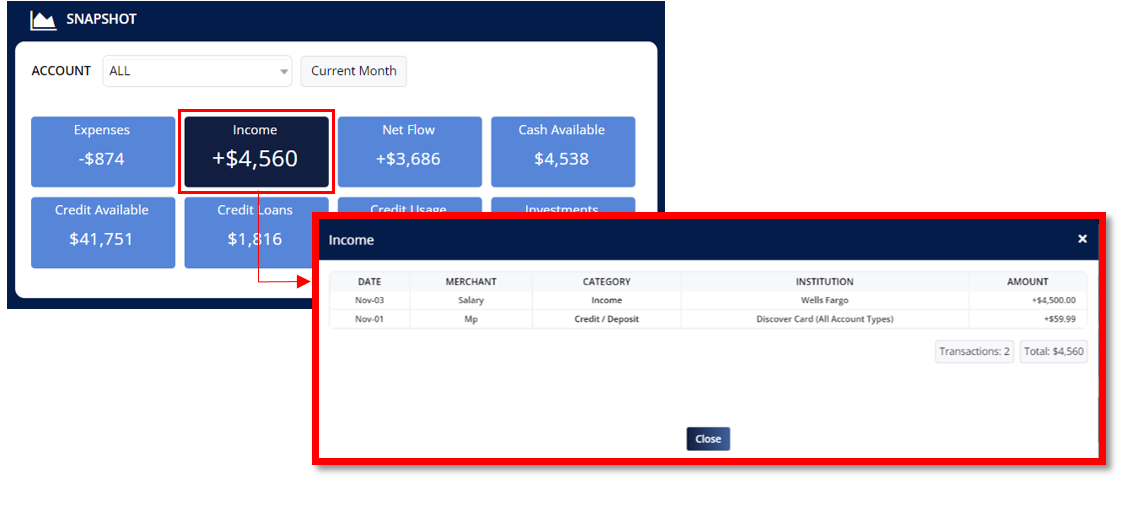 NET FLOW
The Net Flow summary breaks down your monthly cash inflows from your revenue sources as well as your monthly cash outflows for factors like expenses. When you click Net Flow, a pop-up window will open with your current month's cash in-flow, cash out-flow, and cash net flow figures.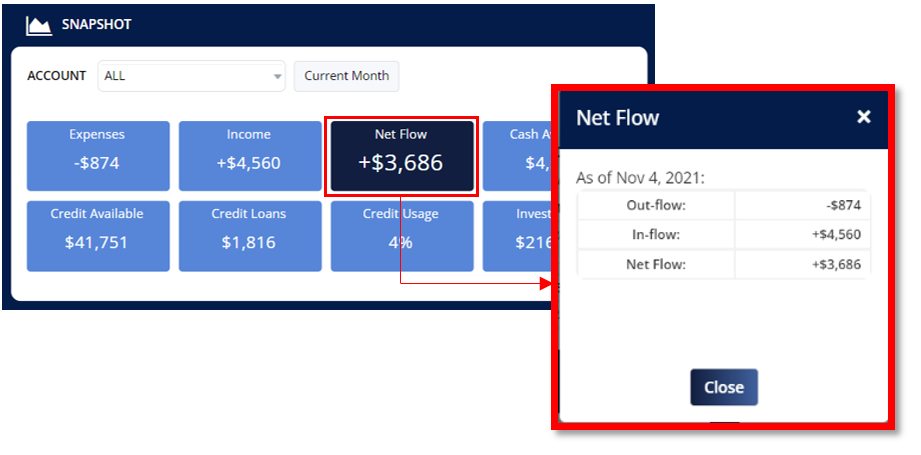 CASH AVAILABLE
You can check how much money is available for you to utilize at each institution by clicking on Cash Available. A pop-up window will then appear, displaying the balances in your checking and savings accounts.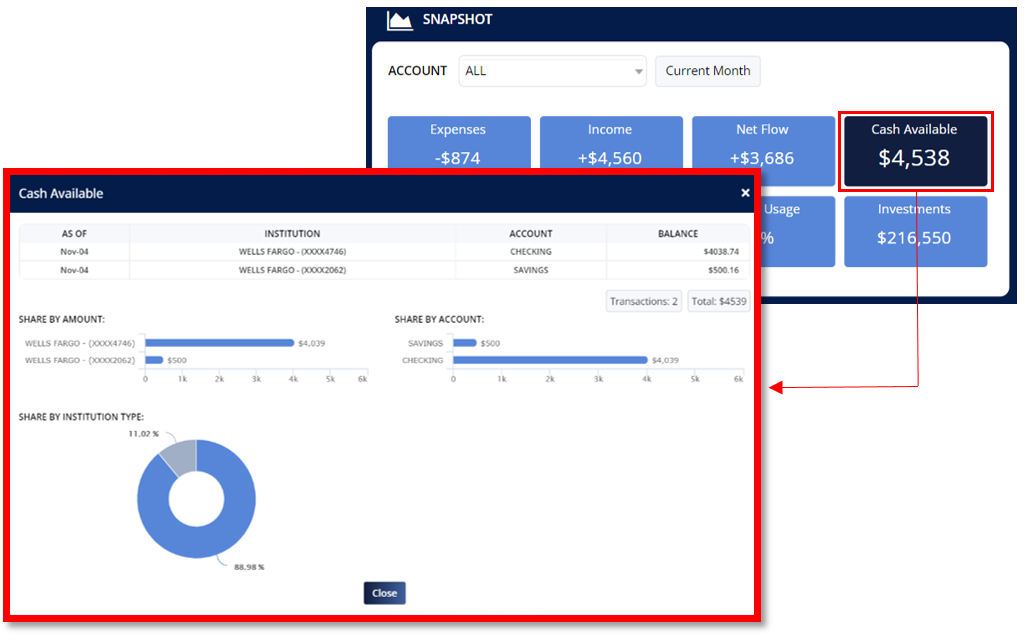 CREDIT AVAILABLE
Click on "Credit Available" to learn more about your available credit. The current amount balance that you may spend on your credit will then be displayed in a pop-up window. This available credit is the difference between your credit card limit and the balance on your card. Knowing your available credit prevents you from allowing charges that exceed your credit limit, which may result in a fee and a penalty rate.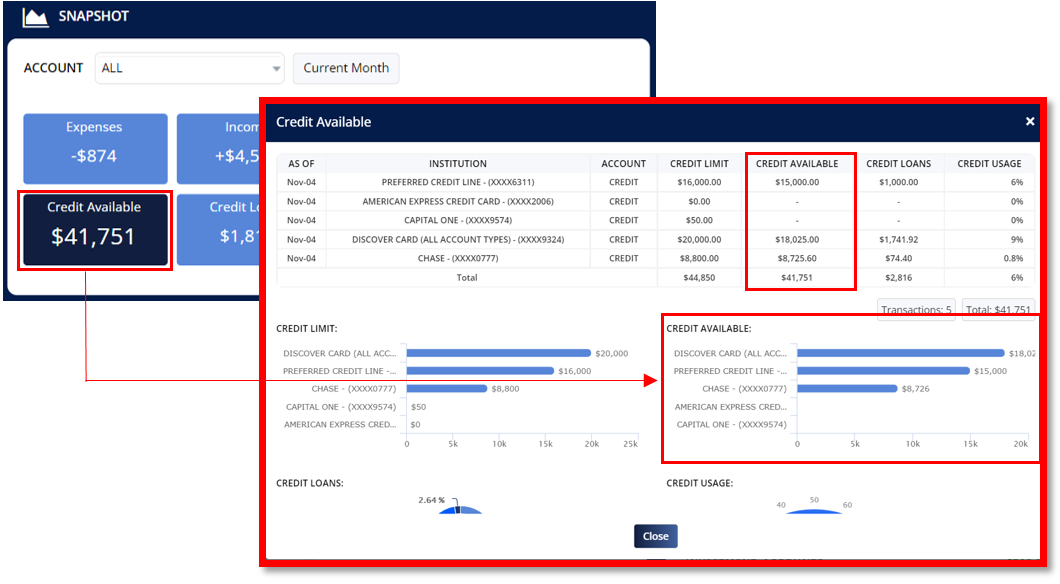 CREDIT LOANS
Credit Loans displays the amount of credit you've utilized on all of your accounts. This helps you to keep track of whether or not you have already hit your credit limit so you can control your credit spending.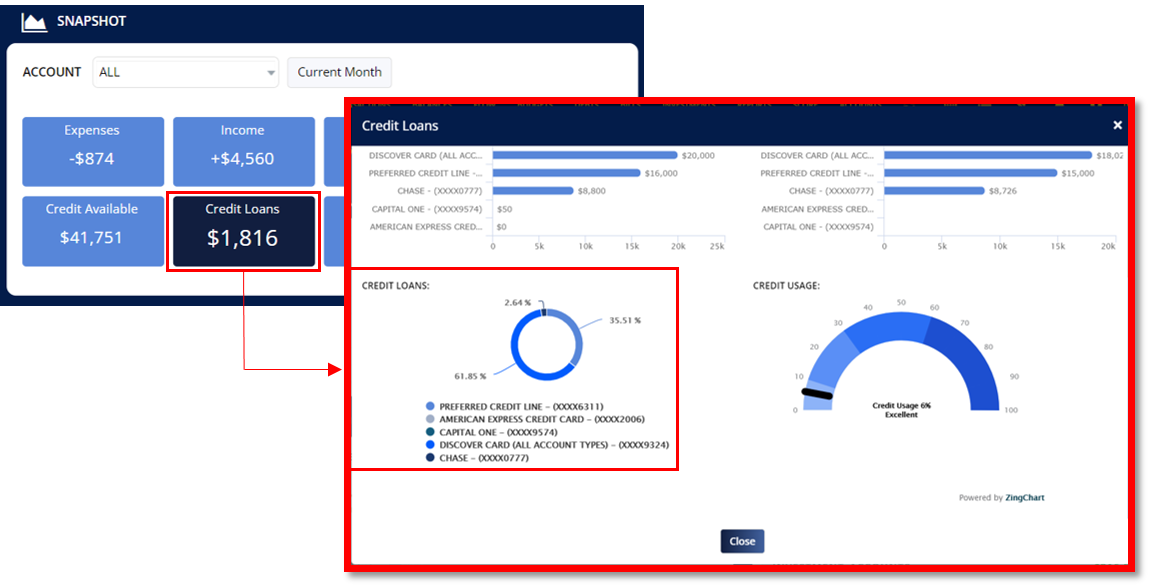 CREDIT USAGE
Credit card usage, or the percentage of available credit that you use, is a significant credit rating factor. It has a direct and major influence on your credit ratings. Carrying a large credit card bill might harm your credit score. However, once you've paid it off and your credit reports have been updated, it will no longer have an impact on your credit score.
Continue monitoring how much you've been using your credit by clicking on "Credit Usage" then a pop-up window will appear displaying the details of your credit card utilization.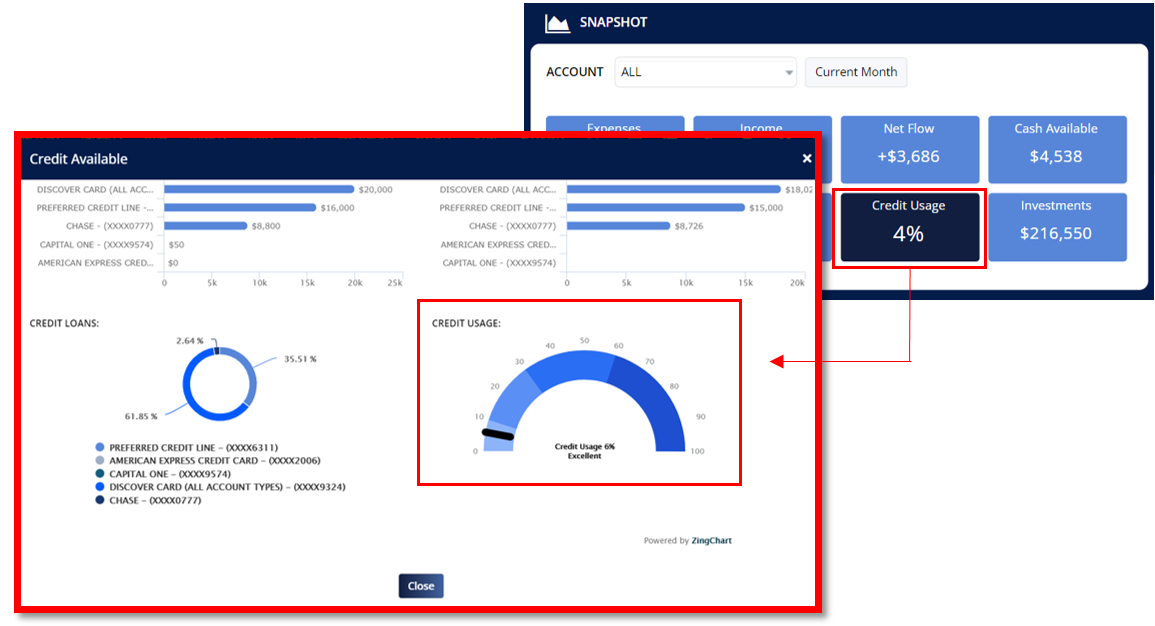 INVESTMENTS
It is vital to evaluate if your investment is producing outcomes and, if so, whether it is proving to be a cost-effective use of your investment funds. This enables you to select the ideal assets and alter them when the market or your personal preferences change.
To view your investments, click "Investments", and a pop-up window will appear, displaying where your money is invested and how much money was invested, assuming you've linked your investment accounts.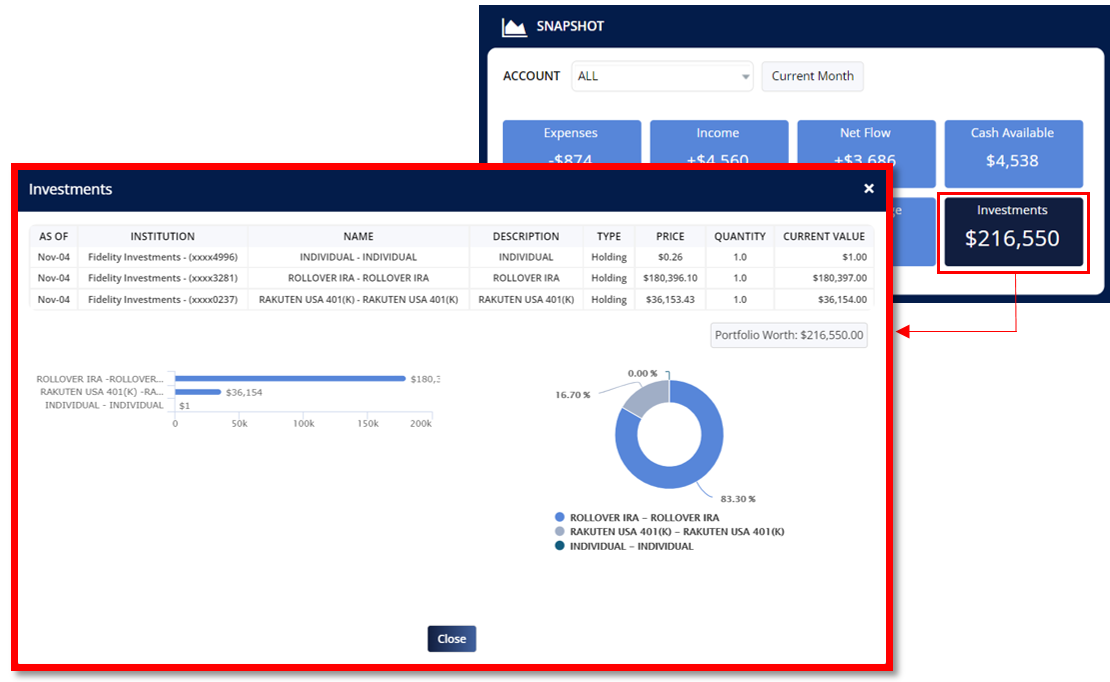 INSIGHT
The goal of Insights is to show you where you spend the most money based on merchant and category. It identifies areas where you are overpaying and helps you to analyze earlier purchases, whether they were genuinely essential or not and supports you in altering your bad spending habits.
The more closely you monitor your spending, the less likely it is that you will make impulse purchases.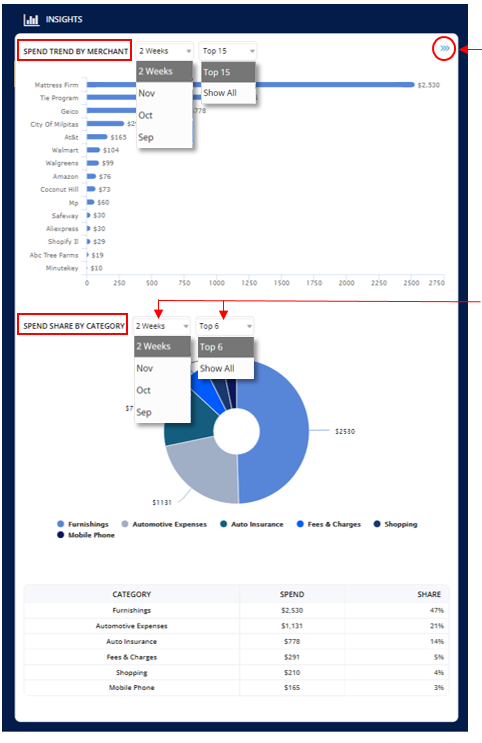 By clicking the three-arrow icon, you can view more of your transactions and trends. This will take you directly to a more detailed breakdown of your spending transactions by merchant and category.
You have the option of viewing your spending by week or monthly. You can also specify whether you want to see the top 15 spend share by merchants and the top 6 spend share by category, or if you want to see all of it.
SPEND TREND BY MERCHANT
To view a merchant's transaction details, click the blue bar next to its name then a pop-up window will appear.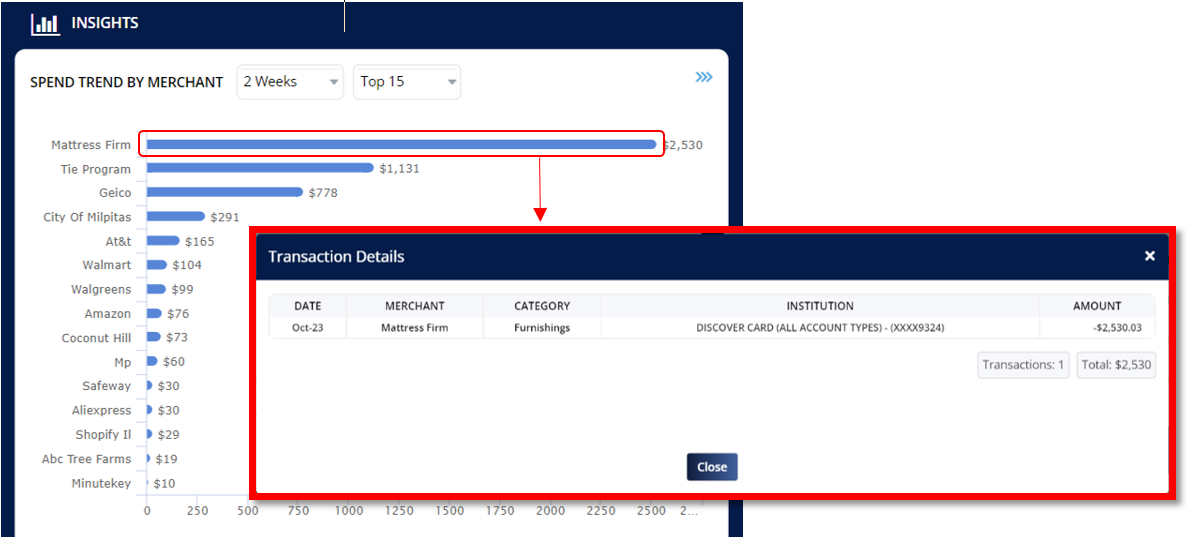 SPEND TREND BY CATEGORY
To view a category's transaction details, click the category name then a pop-up window will appear.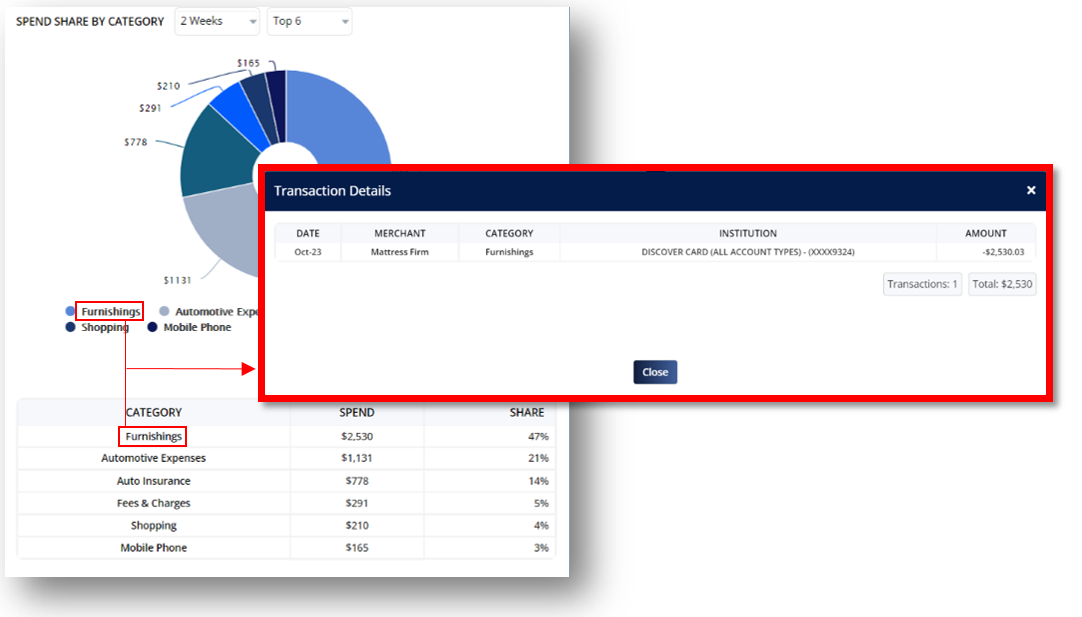 BALANCE SHEET
The balance sheet is a financial statement that shows your net worth. It gives you information about your assets as well as your liabilities.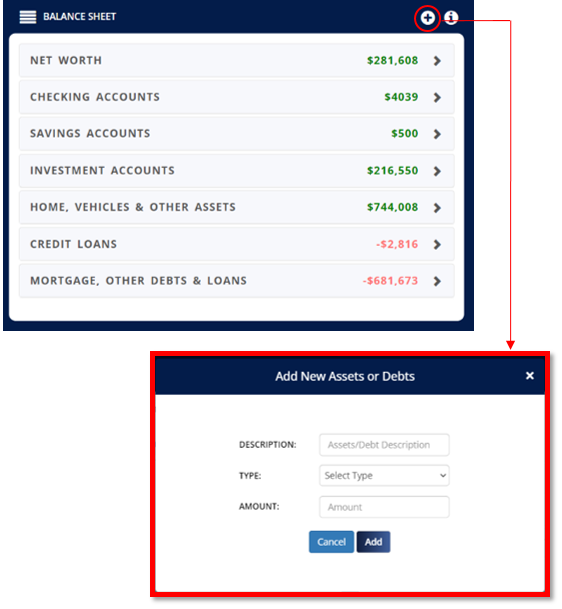 When you click the plus sign icon, a pop-up window will appear from which you can manually enter additional information about your assets or debts.
NET WORTH
Net worth is the total value of all of your non-financial and financial assets less the total value of all of your outstanding liabilities. Maintaining an up-to-date personal financial statement helps you to monitor how your financial health improves or deteriorates over time.   Knowing where you are financially, allows you to avoid unnecessary credit inquiries and the headaches that come with refused credit applications.
Click on "Net Worth" to view the breakdown of all your assets and debts.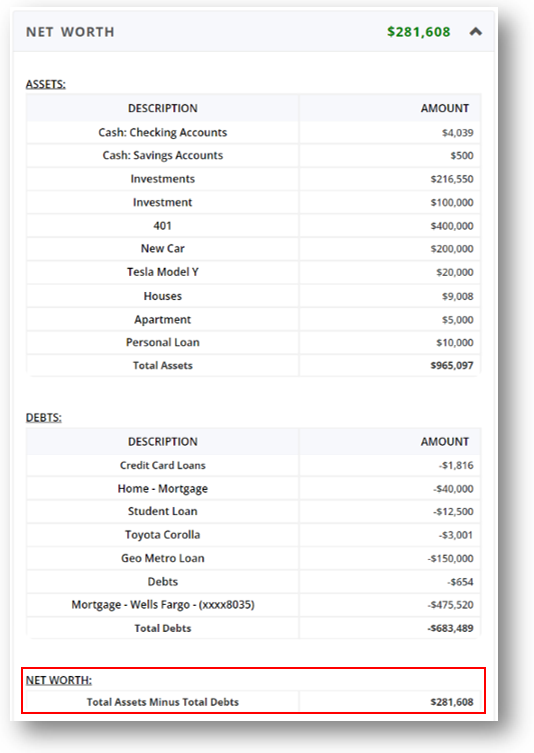 CHECKING & SAVINGS ACCOUNTS
This displays the balances of your bank's checking and savings accounts.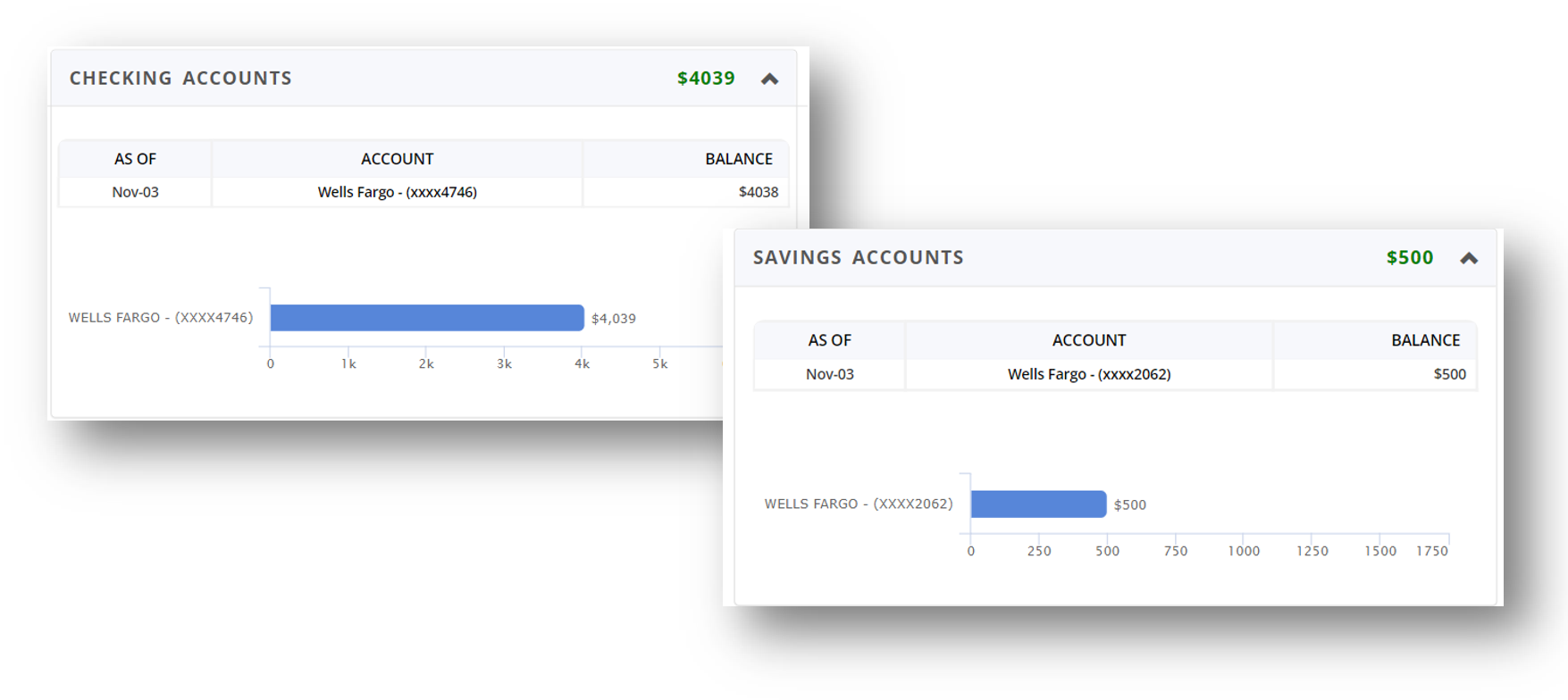 INVESTMENT ACCOUNTS
This displays all your allocated investments and their current values.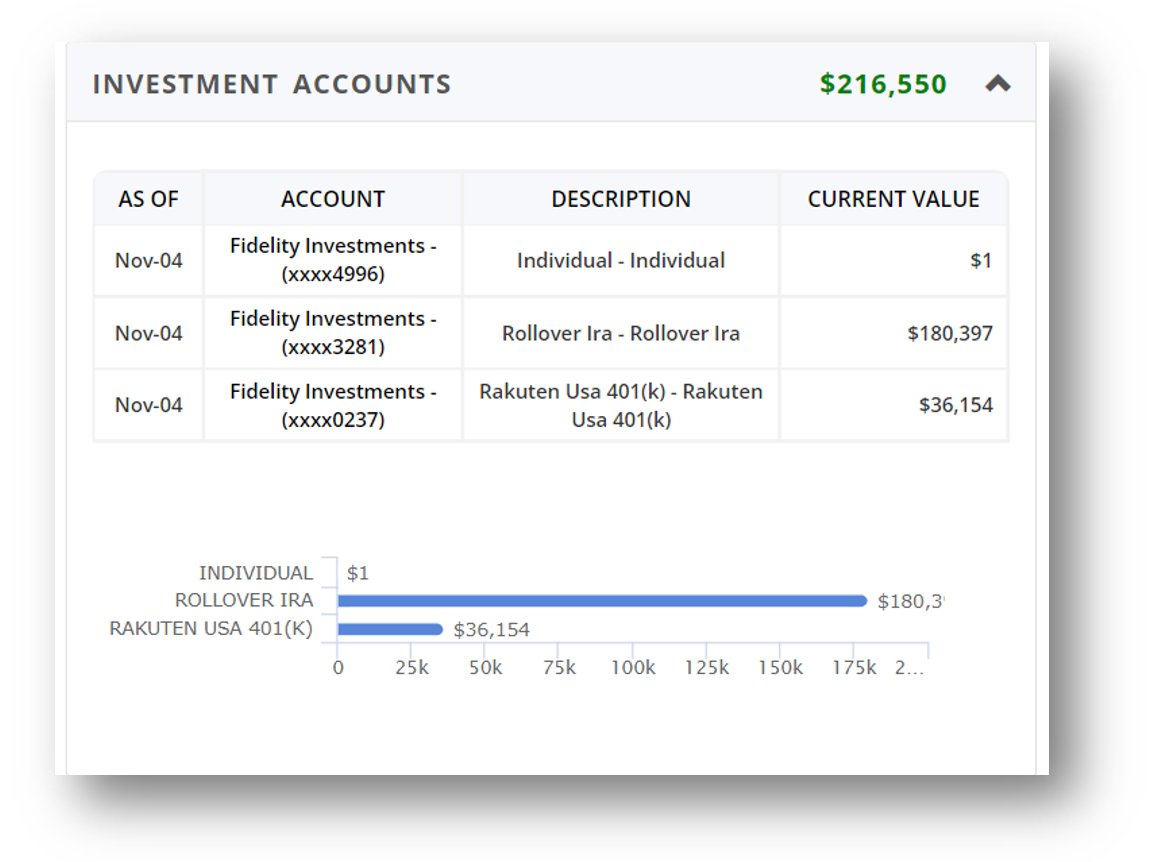 HOME, VEHICLES & OTHER ASSETS
This section displays all of your non-monetary assets. It allows you to manually add a new asset or edit an existing asset.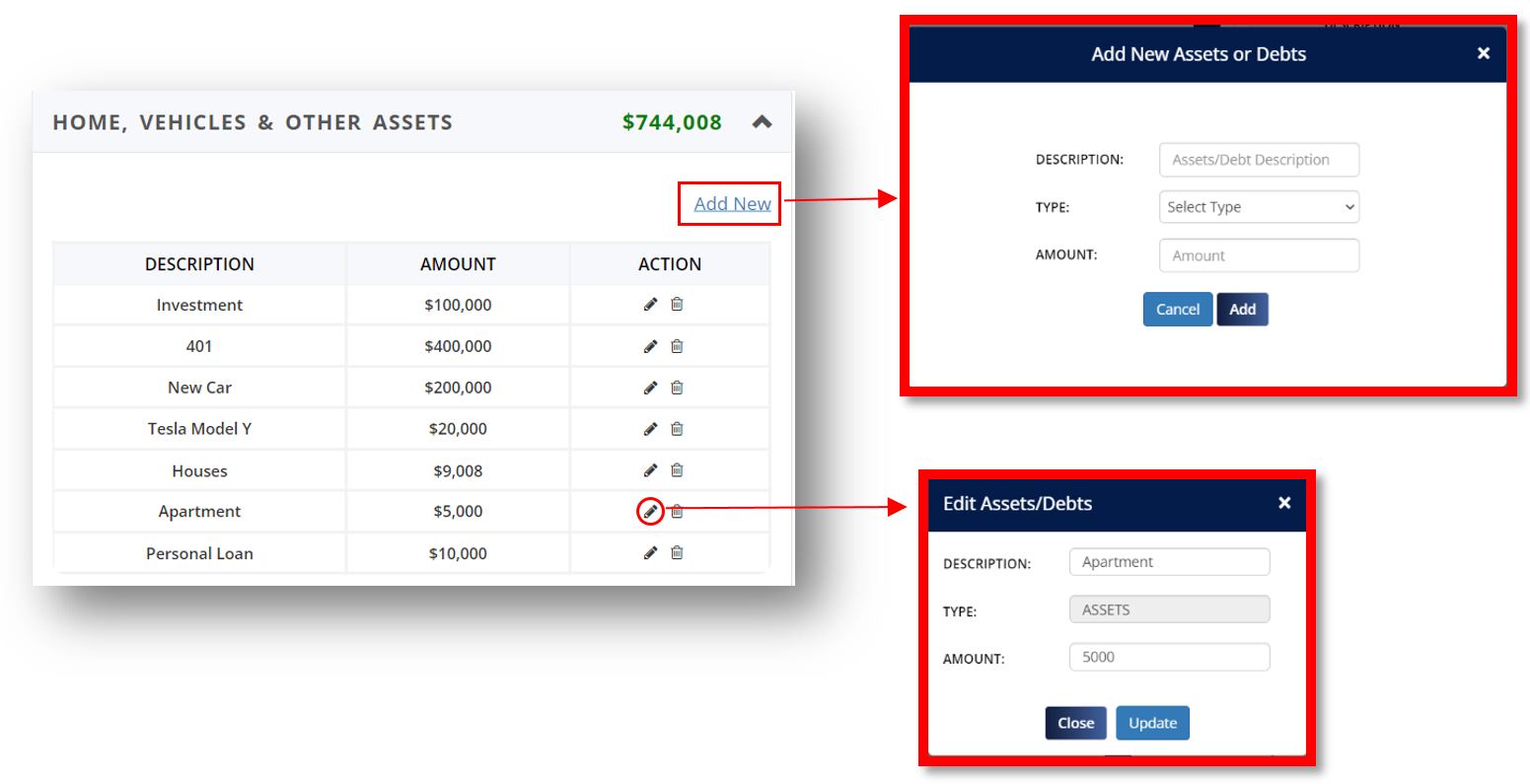 CREDIT LOANS
Credit Loans displays the amount of credit you've utilized per credit accounts.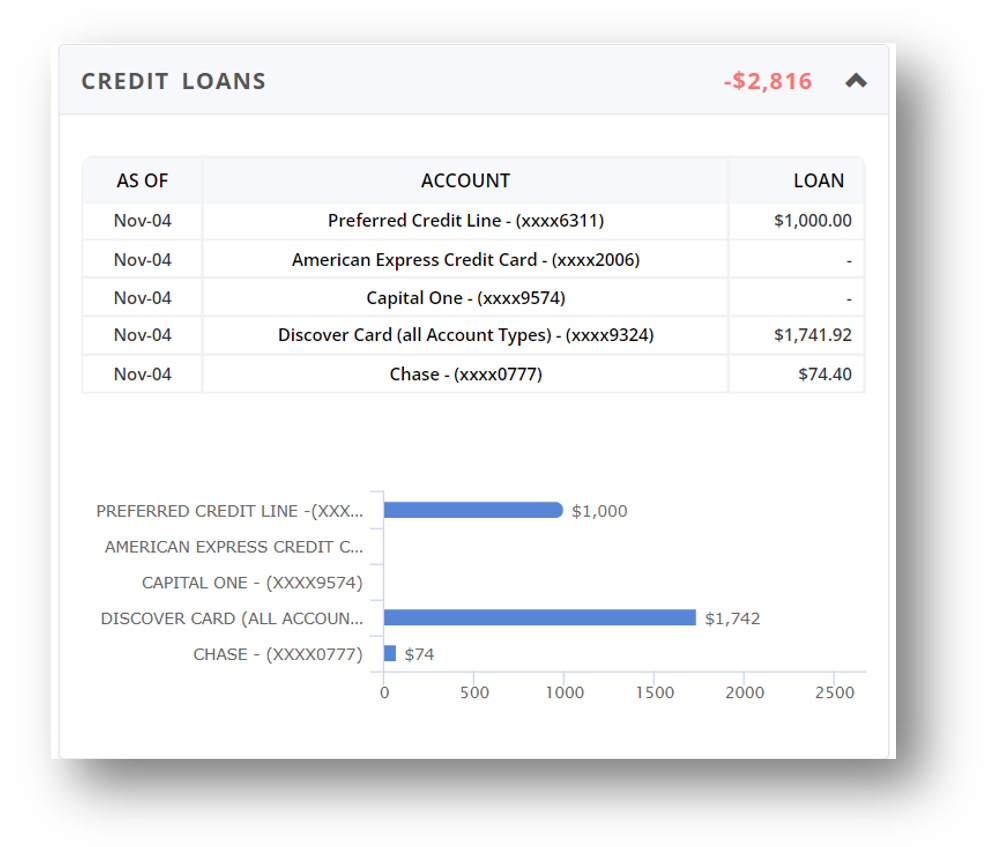 MORTGAGE, OTHER DEBTS & LOANS
This category are liabilities which includes any debts you may have, such as personal loans, credit cards, school loans, overdue taxes, and mortgages.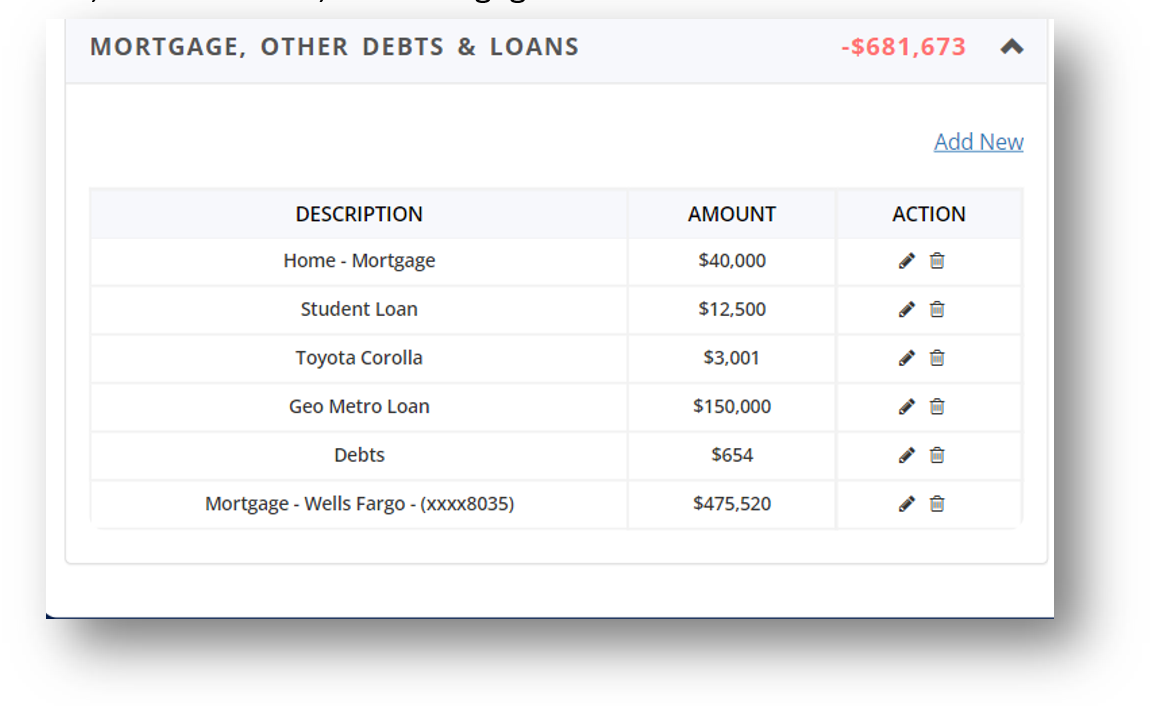 TRENDS
Displays your daily transactions, as well as your spending trends and patterns over time. This will allow you to see where you spend the most and make more informed future spending decisions.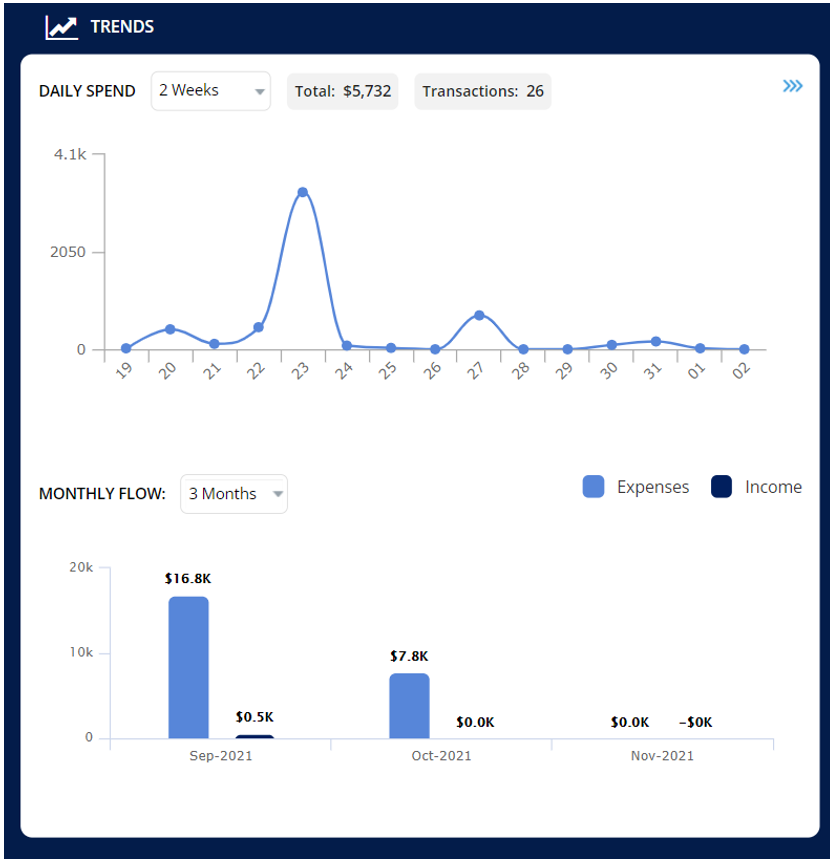 Creating a budget may have little to no impact unless you adequately monitor your expenditures. Logging into each account to check your spending may be inconvenient for you, but by linking your accounts with Money Patrol, you can track your daily and monthly spends in a single setting.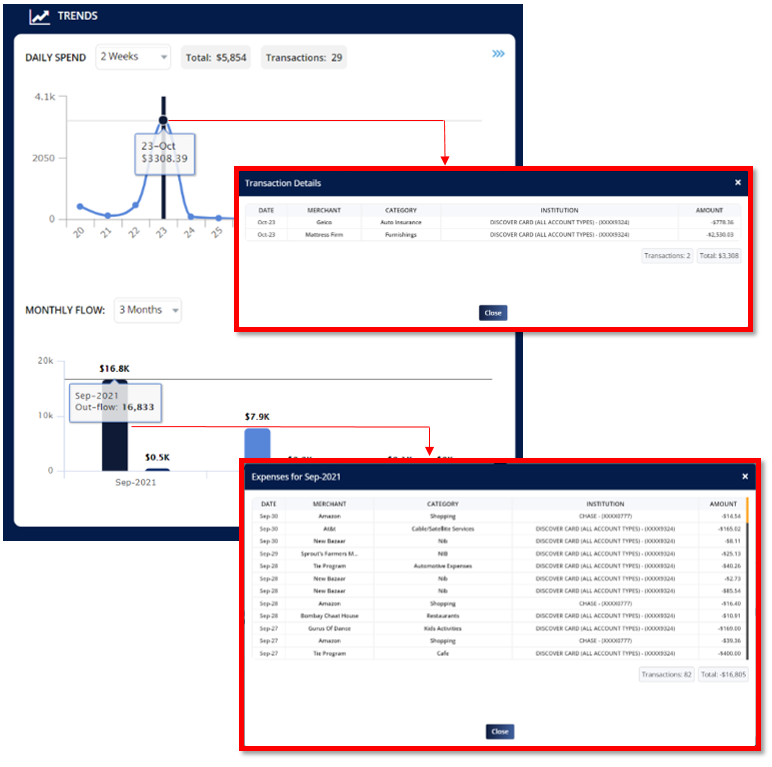 BUDGETS
The budget section shows your spending plan as well as an estimate of how much money you'll make and spend over a specific time period, such as a month or a year.
Setting up a budget allows you to better control your spending, keep track of your costs, and save more money. It assists you in becoming more responsible with your finances and avoiding excessive spending that is outside of your budget.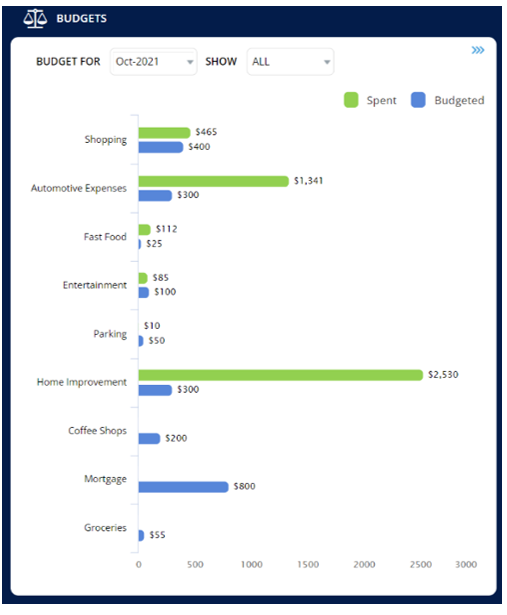 CREDIT SCORE
Good credit ratings may indicate that you are responsible and have good financial habits, such as paying your payments on time. Low credit ratings, on the other hand, may create the opposite image. Examining your credit ratings can help you gain a better knowledge of your current credit condition, putting you on the correct track to achieving your goals.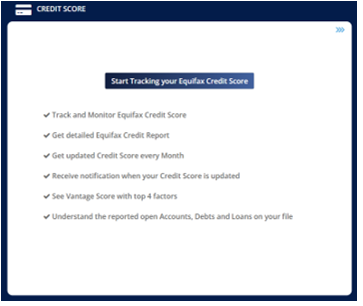 RECURRING MERCHANTS
This shows your monthly billing and subscriptions with various merchants. This allows you to notice any unnecessary or excessive recurring payments on your accounts.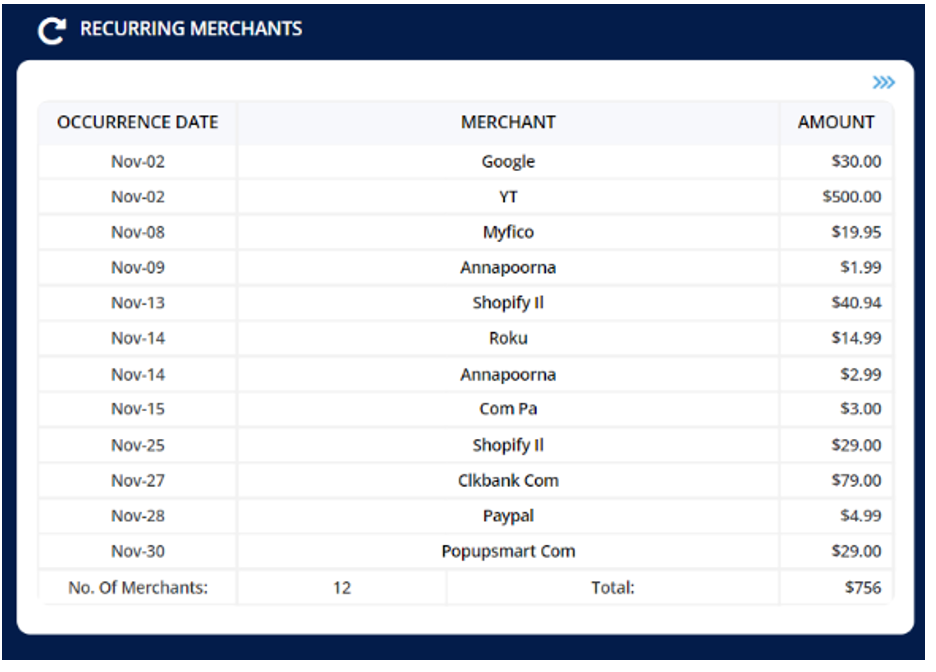 CREDIT LIMIT AND USAGE
You can view your credit limit, credit loan, credit available, and credit usage in this section. This shows you the total amount you can borrow, how much you've spent, and how much you have available to spend on your credit.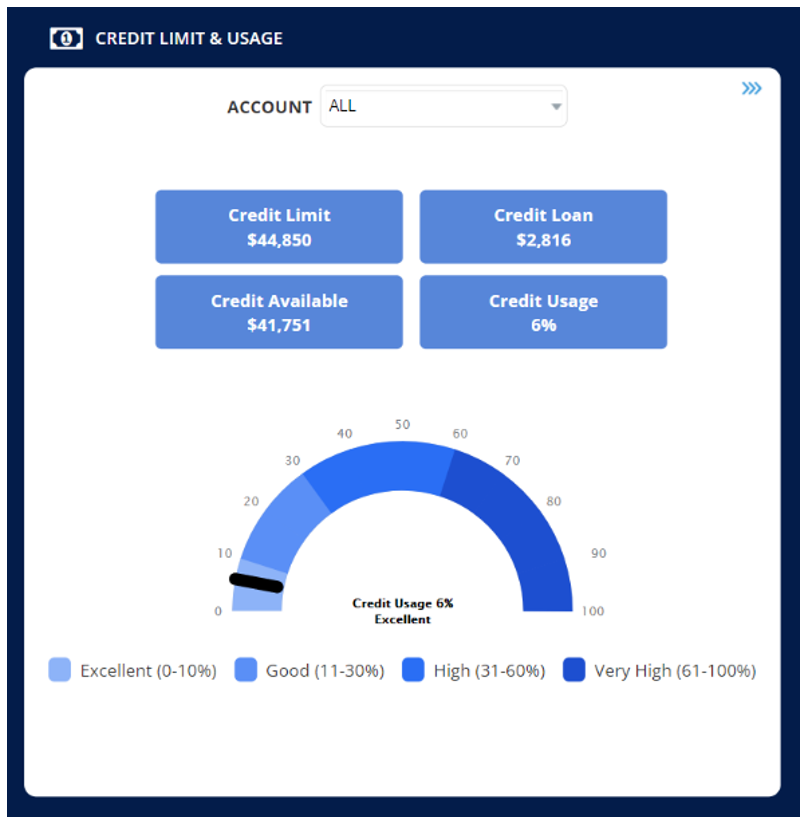 UTILITY REMINDERS
Utility Reminders display your upcoming bills with its due date and amount.

TRANSACTION CALENDAR
Transaction Calendar allows you to view your transactions in a calendar format on a monthly or weekly basis. Expenses are highlighted in orange while income is highlighted in blue. This makes it easier for you to differentiate your every transactions.